Rocklin, Calif. – – Today, Republican candidate for 5th Assembly District, Joe Patterson, announced signing the Howard Jarvis Taxpayers Association's official "Pledge to Stand Up for Taxpayers."
"I proudly signed this pledge to taxpayers because I believe California's taxpayers are under constant attack and treated as ATM machines by the California legislature," said Patterson. "As your Assemblyman, I will do everything I can to put a stop to the abuse inflicted on taxpayers by money-grabbing Sacramento politicians. Every few years there is an attempt to undermine California's landmark taxpayer protection law Prop 13 or a new effort to fund a pet project at the cost of billions of dollars on the backs of taxpayers. Enough is enough."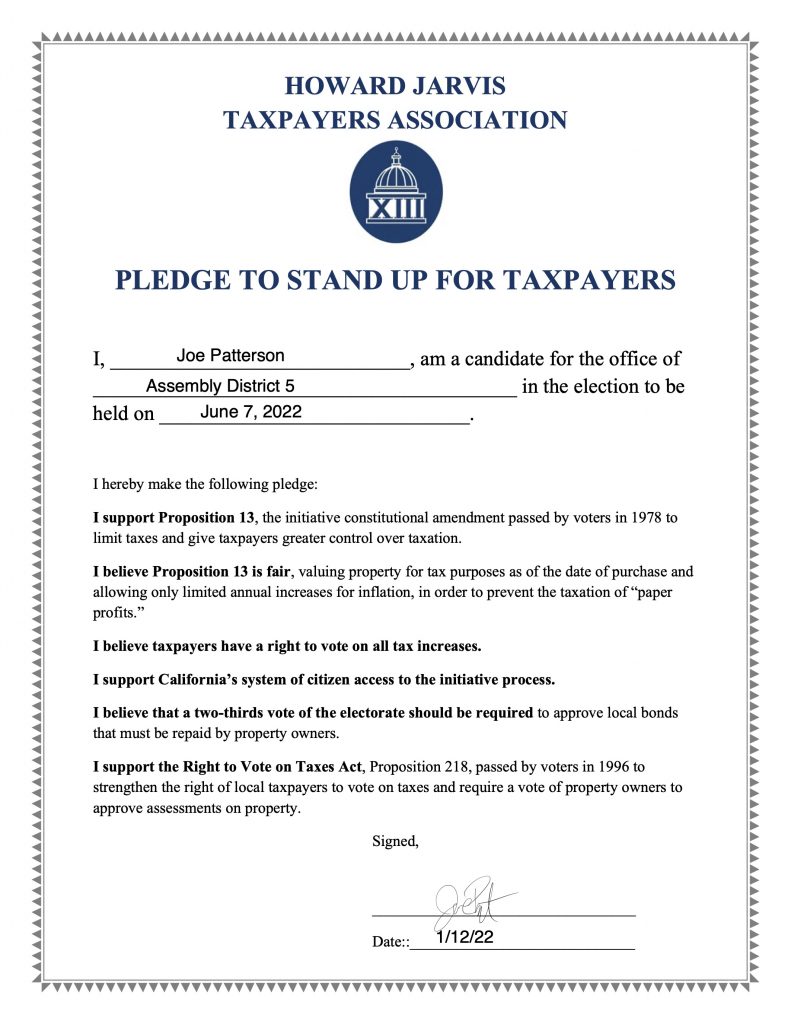 Created during the 2020 election cycle, the pledge is a commitment from candidates to protect Proposition 13, support the right of voters to vote on tax increases, and support California's initiative process.
Joe Patterson has become the choice of taxpayers in his campaign. Patterson has been endorsed by both local taxpayer protection groups the Placer County Taxpayers Association and Gold County Taxpayers Association.
Additionally, Patterson recently picked up key endorsements from incumbent Assemblyman Kevin Kiley and the Placer County Republican Party.
For more information about Joe's campaign including the latest news and endorsements, please visit www.JoePatterson.com.